September 16, 2019  by FLW Communications
ROCKWOOD, Tenn. – Boater John Murray of Spring City, Tennessee, brought a two-day total of 10 bass to the scale weighing 28 pounds, 11 ounces, to win the two-day T-H Marine FLW Bass Fishing League (BFL) Volunteer Division super-tournament on Watts Bar Lake Sunday. Murray earned $7,334 for his efforts.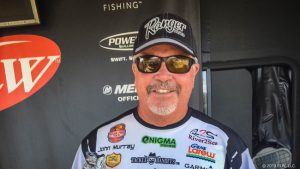 "I fished in the lower end of the lake, main-lake near the dam," said Murray, a West Coast fishing legend who has accumulated more than $1.2 million dollars in career earnings as a professional angler. "I felt pretty good about this tournament, because I had a good shallow-water pattern and also a couple of deep areas for when the weather cleared up and got sunny.
"Saturday was awesome – I think I caught around 15 to 20 keepers," Murray continued. "Both my co-angler and I had great days – he ended up winning as well. Sunday was tough, though. I only boated five keepers, and my co-angler only boated two. Luckily, it was enough for us to both get the wins."
Murray said that of the 10 fish that he weighed in, seven – including his big ones – came from his shallow-water pattern while three came from out deep. Murray threw a Z-Man Evergreen ChatterBait Jack Hammer with a clear-sparkle-colored shad-shaped fluke-type bait while fishing shallow and drop-shotted a red bug-colored Gene Larew TattleTail Worm out deep.
"The key was having my deep spots for when the sun got up," Murray said. "A couple of the deep areas were loaded up, and I was able to find them using my Garmin electronics to key in on the right spots."
The top 10 boaters finished the tournament in: