Watts Bar Lake Association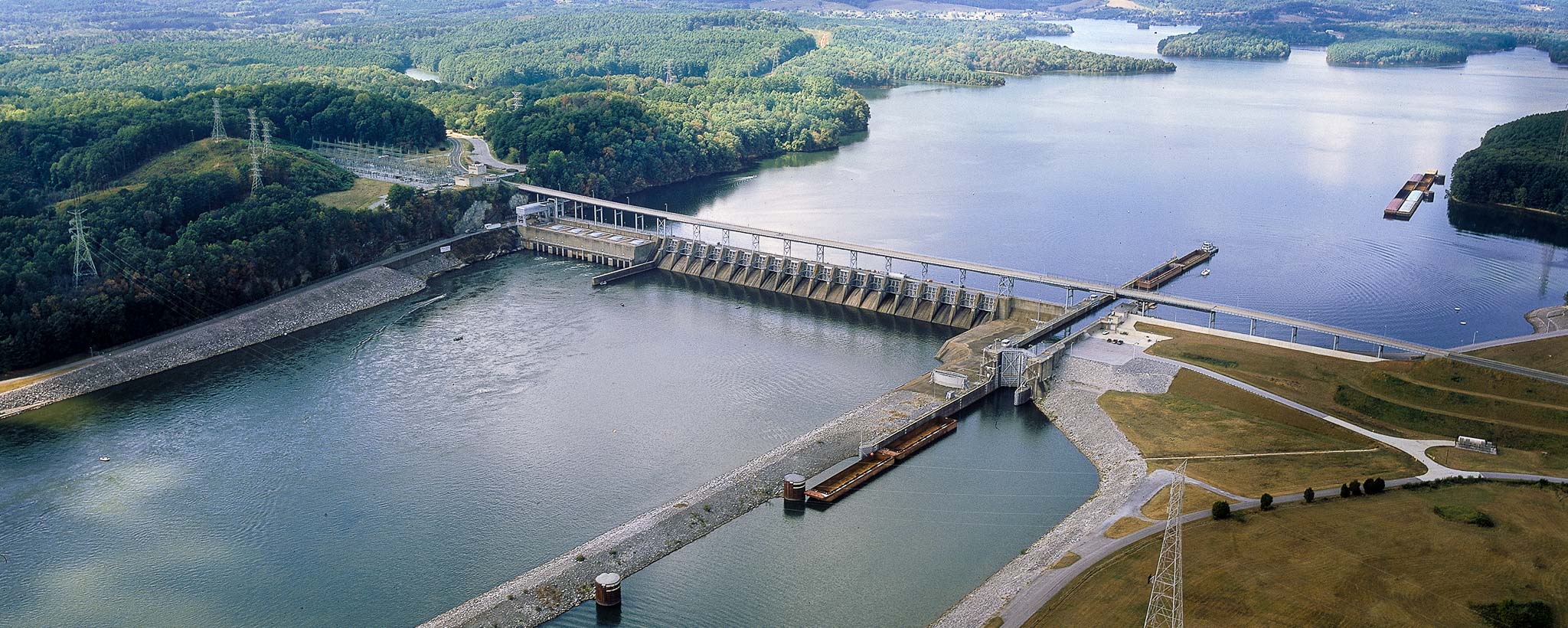 Watts Bar: Facts + Figures
Watts Bar Dam is 112 feet high and stretches 2,960 feet across the Tennessee River.
Watts Bar Dam is a hydroelectric facility. It has five generating units with a net dependable capacity of 182 megawatts.  Net dependable capacity is the amount of power a dam can produce on an average day, minus the electricity used by the dam itself.
Watts Bar Reservoir has 722 miles of shoreline and over 39,090 acres of water surface.
The reservoir has a flood-storage capacity of 379,000 acre-feet.
To maintain the water depth required for navigation, the minimum winter elevation for Watts Bar Reservoir is 735 feet. The typical summer operating range is between 740 and 741 feet.
In addition to forming a navigable 72-mile-long reservoir on the Tennessee River, Watts Bar also creates a slack-water channel for navigation more than 20 miles up the Clinch River and 12 miles up the Emory River.
Watts Bar has one 60- by 360-foot lock that lifts and lowers barges as much as 70 feet to Chickamauga Reservoir. The lock handles more than a million tons of cargo a year.
Watts Bar Lake & River Rescue and Shoreline Cleanup
Saturday, March 12, 2022
The Watts Bar Lake Association (WBLA), IJAMS Nature Center, and the Tennessee Valley Authority (TVA) will sponsor the annual River Rescue shoreline cleanup on Saturday, March 12th, from 8:30 a.m. to noon. Volunteers are asked to meet at 8:30 a.m.
All who are interested in keeping the shoreline clean and beautiful should volunteer to help. Gloves, trash bags and grabbers will be furnished.
Rhea County participants will meet at Veterans Park in Spring City and are asked to contact Roger Hinsdale at (423) 452-0428 for information.
Meigs County participants will meet at Mr. Twister Restaurant in Ten Mile and are asked to contact Harry Smiley at (803) 640-7870 for information.
Roane County participants on the east side of the lake should contact Peter Giroux at (404) 304-1115 and will gather at Blue Springs Marina Boat Ramp.
Folks in the Kingston area are asked to Contact Bonnie Angus at 865-717-4102 and will meet at The Caney Creek
Recreational Area.
Watts Bar Lake Association – 2022 Re-Start
To: Watts Bar Lake Enthusiasts
Since the Pandemic started, early in 2020, the Association has not been able to function normally.  The WBLA cancelled all functions for 2020 and 2021.  This included Membership and Director meetings, collection of dues and donations, and election of Directors.  I asked the elected Directors from 2020 to continue to serve through 2021, as there could not be a Membership meeting / election held in 2021.  We now find ourselves early in 2022 and the WBLA needs to be restored to its pre-pandemic condition.  The following is my proposal to the 2021 Directors to accomplish the restoration of the WBLA.
During the two-year hiatus the Association has continued to make payments on necessary services (PO Box, Other Association Dues, website, and 501c3 / TN requirements), but have had no other expenses or income.  Also, in accordance with the WBLA Bylaws, the terms for all the Directors have expired.  In addition, we have lost our website creator/manager, and desperately need to locate / replace this website service.
The re-start plan will facilitate the election of up to eleven Directors and the solicitation for payment of dues for 2022.  The election can take place at the 2022 Spring Membership Meeting, held in April or May.  The special election for 2022 will elect up to 6 Directors for two-year terms and up to 5 Directors for one-year terms.
Urgent Needs:
Director nominations – If you are interested in running for this office or have questions about this position, please contact Roger Hinsdale at info@wattsbarlakeassociation.org

Webmaster – Current website is Wordpress based and is the basis for our membership and communication needs.  Prefer Webmaster to be close to the Meigs, Rhea, Roane County area.

I am able to support this re-start for one year but cannot continue to be the President of the organization.  Please let me know if you would be willing to run for the President's position.  The elected Directors decide how/who will fill the Pres, VP, Sec, & Treas positions.
Past Directors willing to run for 1 or 2 year Director positions:
Gene Corcoran  -  Lee Franz  -  Peter Giroux  -  Roger Hinsdale  -  Amy Murray  -  Harry Smiley  - Betsy Webb